Our references below would love to hear from you!  
 Please allow 2-3 days for their response. Thank you!
Christina and Robert Miller, June 22, 2013 wedding
Christina.Miller@ouhsd.k12.ca.us
Gretchen and Garland Whitt, May 18, 2013 wedding
 gretchenheidemann@gmail.com
Candice and Rodney Rosene - October 13, 2012 Wedding
cgrabois@gmail.com
Stepany and Chris Gansen - September 1, 2012 Wedding
scwilson88@gmail.com
Madeline Silcox (Mother of the Bride), July 2011 Wedding
madelinesilcox@sbcglobal.net
Aimee and Fawad Abbaszadeh, July 2010 Wedding
aimster17@gmail.com 
Ana Garcia Serrato, September 2009 Wedding
gc.anagarcia@gmail.com
Larson Sutton, May 2002 Wedding
Bungaloo17@yahoo.com
Ed Zelanznik, Guitar Center Store Openings, 2000-2005,
ezelaznik@guitarcenter.com
Michael Lamb, Manager,  Señior Fred restaurant, New Year's Eve Party 2005, 2006, 2008, 2009, 2010, 2011, info@senorfred.com 818-789-3200
Doug Clark, April 2006 Wedding
Dclark@yahoo-inc.com
Lynda (Thomas) Benoit, Wedding, Oct. 2006
lyndat@gmail.com
 Feliks and Nina Zaslavskiy wedding, Aug. 23, 2014
Lissette's Engagement Party, June 28, 2014
Hi Craig, 
I wanted to personally send you an email to tell you how fantastic Weston was last night! 
Half way thru the party, the power went out on the entire street and he handled it like a champ. He remained upbeat and positive throughout the entire evening and quickly found a solution to project the music from his laptop as best as he could. He was so fantastic that everyone thought he was part of the family. 
I will highly recommend dj's on a dime and already told Weston we want him for our wedding. 
Thank you again for being on top of everything from the moment I emailed you to when the event ended. 
Have a great rest of your weekend. 
Lissette Di Pietro 
Leana Hartman Graduation Party, June 21, 2014
"I recently hired Mr. Walls to deejay my graduation party. He contacted me beforehand to discuss my music preferences and the ages/preferences of my guests. He made himself available to me for any questions or concerns that I may have had. When the date of my event arrived he was prompt, very professional and fulfilled all of my expectations and more. He played the music I and my guests wanted to hear and set up party lights along with his equipment. He even took some pictures which I wasn't expecting but was so grateful for, since I didn't take any myself! I would highly recommend him to anyone who requires a deejay. Thank you, Weston!!
-Leana Hartman
Mike and Rachel Zaimont Wedding, Sept. 22, 2013
(See their actual review on Weddingwire at the bottom footer of the page)
This is Mike Zaimont...you did an excellent job at the wedding and I just wanted to thank you.
If you want more info about any of the songs we provided, just ask.
And a note from Rachel: Craig, thank you so much for providing an excellent soundtrack and making everything run smoothly! I really appreciated how professional you were at all times, how responsive you were whenever I had questions beforehand and how on-the-ball you were about everything in the weeks leading up to the event!
Is there somewhere in particular we can leave a positive review for you?
Thanks again!
Mike and Rachel
Konrad and Stephanie Kuy Wedding, Sept. 14, 2013 - From Yelp
Extremely satisfied with the level of service and talent provided by our DJ weston of DJs on a dime. We worked closely with both Weston and Craig who were both very helpful with making sure our entertainment needs were met. You will not regret your decision to use them especially when other competitors are charging even double or more of what DJs on a dime offer. These guys do good work and they're good people too. Couldn't have asked for more.
 Dreizler Bat Mitzvah, Aug. 24, 2013
 DJs on a Dime and Craig in particular was fantastic. Craig was responsive to our questions and requests, made fantastic suggestions to improve our event, and most importantly, kept our party moving. I would absolutely recommend DJs on a Dime. 
Robin D.
Shane and Lindsay Drasin Wedding, Aug. 3, 2013
Hey Craig!
I just wanted to thank you for the great job you did at the wedding! Sorry I didn't get a chance to that evening. Hope all is well!!
Thanks again!
-Shane Drasin
Jan. 21, 2013, Four Season Hotel, Westlake Village
"Hi Craig,
I just wanted to thank you - so much - for doing such a great job at our wedding on January 21st. You were so amazing through the entire process, really listened to what we wanted, and made it happen come wedding day. Also, with having the wedding on a Monday and people needing to return to work on Tuesday, people were watching their alcohol intake and seemed a little less inclined to let loose on the dancefloor. You did a fantastic job of encouraging people to dance, playing music that catered to the guests we had, and even getting on the dancefloor yourself to get everyone dancing. What a fantastic job! Many of our guests even commented that we had a "great" DJ.
It was such a pleasure getting a chance to work with you. James and I look forward to working with you on other events in the future.
Best wishes,
Nannina Angioni"
Sept. 2, 2012 Wedding, Palos Verdes Estates
Craig was so awesome and so wonderful to work with. He made the whole planning process seamless and the event was flawless. Everyone commented on how great the music was and he was so professional during our wedding. We would definitely work with him again and we will definitely be recommending him! Thank you so much!
Jon and Emily Stroll
Aug 12, 2012 Wedding, Santa Monica
Craig  (Henry) really was a great DJ - and helped Phill and I have the wedding of our dreams 8/12/12. Thank you so much for adding songs that are so special and meaningful for the two of us to your already amazing collection! Although we found you through a service we've been recommending you directly to our engaged friends already!
Phill and Jacqui Genevitz
Aug. 4, 2012 Wedding, Granada Hills
We had the greatest DJ. He followed our program perfectly and played the greatest music. My guests are still talking about how great he did with his music selection and emceeing the event. He worked with our photographer to caputre all of our sprecial moments. He kept everyone dancing and on the floor. Loved Him.. I would highly recommend him for your event.
Lori and Ken Dimmick
July 21, 2012 Wedding, Walnut Grove
I just want to say thank you to the company and to Craig P for doing such an amazing job at my wedding on July 21, 2012. Everyone had such a great time and both my husband and I heard many wonderful comments from guests about how great the night went. It was so easy to set up the playlist for the music we wanted and easy to get in touch with someone when we needed to. Thank you for helping make our wedding reception one to remember!
Stephanie and Valentin
July 21, 2012 Birthday Party, Burbank
Hi Craig,
I want to thank you again for sending Julie (DJ Bijoux) to take care of the music at my 50th birthday party. Julie was an amazing DJ. The equipment set-up made the sound superb; Julie worked very hard to find the songs on my playlist (even the obscure ones!); and provided a set of CDs for me to remember the evening. I cannot recommend DJ Bijoux or your company highly enough. Many of my guests said, "Where did you find your DJ? She is great!" and asked for her business card. You could not ask for a better ambassador for DJs On a Dime.
Thank you for making my birthday so special!
Kimberly
July 14, 2012 Wedding, Universal City Hilton
 Craig Henry and Mike were AMAZING!! Could not have asked for better DJs if I was wishing for them out of a wishing well! There really is no better option for a wedding. They looked sharp, were amazing with the crowd and worked well with last second changes during the event. Truly honored to have had them DJ my wedding.
Gena & Gregg Mann
May 20, 2012 Wedding, Walnut Grove at Tierra Rejada
Craig was amazing. Music selection was exactly what we asked for .. Our day was that much more special due to Craig's DJ skills.. Thank you so much!!
Jason and Rebekah Davis
May 19, 2012 Sweet 16 Party
Craig showed great professionalism in pre-event prep, was generous with his time, and was very interested in making the event a success. Ceaser, the DJ, was prompt, professional, entertaining, flexible, and a joy to work with. I could not be happier with the outcome. I HIGHLY recommend both Craig and Ceaser.
J. Russell, father
May 6, 2012 - Adam and Elana Drasin Wedding
Craig was awesome!! Great communication, made the evening flow wonderfully. Great energy, and couldn't be happier that he was a part of our special day!
 Adam and Elana
Feb. 26, 2012 - Josh and Noemi Barker Wedding
Our DJ Craig (Henry) exceeded our expectations on our special day. The entire event flowed smoothly because our DJ''s excellent performance. He('s) extremely professional and flexible to meet our needs. Thank you for making our special day so fun and carefree! 
Aug. 27, 2011 - Andrew and Ana Davis Wedding
 Craig,
Thank you for everything last night! I hope that you got a chance to hit the buffet and an apple pie drink. We had a terrific time dancing (especially me). And thanks for running with it all on the fly, since clearly we were not terribly organized this last week. But we feel like it turned out great. Thanks again!

Ana and Andrew
Ana Kaczmarek Davis 
July 30, 2011 - Jacob and Aba Williams Wedding
 Hi Craig, we enjoyed having u DJ for us. I totally enjoyed the music and was impressed by the way you mixed the songs. We were so glad that you found the songs we had selected. And we liked the additional ones you chose. And the best part was when you got onto the dance floor to teach us the cuban dance. It was so good! See how we all got involved. Thank you for helping us have such a good time. We will definitely fill out the satisfaction survey. We were completely satisfied! I am glad you liked the smell of the solid perfume. I 
made it myself. Thank you very much once again!
Best wishes
Aba and Jacob
July 9, 2011 - Steve and Vicky Radovich Wedding
Craig,
Just a short note to let you know how impressed we all were with the fantastic service you provided at the July 10 wedding.  You have a wonderful way with the microphone and the audience.  Your timing is fantastic and you were able to read the guests and what they wanted when they wanted it.  So many people commented on how much they enjoyed the music and what a good time they had.  If you ever need a recommendation feel free to use my name and telephone number.  Thank you so much for making it a memorable evening!
Madeline Silcox (mother of the bride)Silcox-Radovich wedding
May 29, 2011 - Phillip and Lauren Thai Wedding
Hi Craig,
 
We just wanted to say thank you for doing such a wonderful job at our wedding!  Everything turned out lovely.  Again, we just wanted to say thank you and that we appreciate all your hard work.  And thank you for the mp3.  :)
 
Lauren and Phillip
March 27, 2011
"We used Craig Henry as our DJ and he was great!  He really got the party going and made our wedding the great event it was.
Shawn and Leah Swetsky
October 10, 2010
Craig,
Michael and I wanted to thank you for the wonderful job you did as the dj for our wedding. Everyone had a blast and the dance floor was never empty.
Thank you! 
Irma & Michael Patrick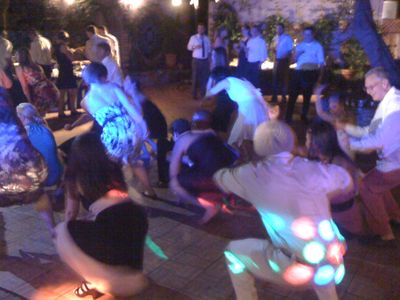 October 2, 2010

Craig:
 
We just want to thank you for the absolutely great DJ-ing at our wedding.  The guests told us they really enjoyed the music.  As you know, we had no trouble at all getting people on the dance floor.
 
You were prompt, professional and a real pleasure to work with you.  All the information that you requested beforehand and that I provided was to a "T".  Your equipment was state of the art, we had not seen anything like it.  Even though The Pros said you would not be contacting us until the week of our wedding (which made us a little nervous), you initiated contact 3 weeks before and that made us feel more comfortable knowing you were reliable.  After our phone meeting with you, we felt even more assured with you.
 
By the way, our daughter had a playdate and while we were in the car I played your CD -  they loved it and were giggling.  Really cute lyrics!
 
If we ever know of someone in need of a DJ, we will definitely recommend you.
 
Thanks so much for a memorable evening of fun.
 
Susan and Matt O'Shea
 
P.S.  I bet you don't want to hear Tom Petty for a long time!!!
September 4, 2010
Craig Goebbert and his assistant went beyond our expectations.  They were very accomodating especially with the movie premieres we showed that day.  The sound support for the music and live performances throughout the event was spectacular.  I definitely would recommend Craig Goebbert and DJs on a Dime to my family and friends or to our next big event.  Thanks for helping in make our Wedding Day happen.
Marlon and Melissa Viernes
August 14, 2010
 Great job Craig!  Thanks again and hope to see you at another party soon.
Colette Alderson - Nort and Sean's birthday party
July 10, 2010 Wedding 
Hello Craig,
Sorry we just got back from our honeymoon and are still finishing moving to our new place. Thank you so much for everything on our wedding. Everyone loved your dj skills and music. Some of my coworkers went to another wedding the Saturday after ours and said that you were way better than the dj there. No comparison! You were extremely professional and great to work with.
Sincerely,
Aimee and Fawad
October 24, 2009 Wedding
Hi Craig,
We just wanted to say thank you for last night. You did an awesome job. As promised, you had our grandmothers dancing!
Charlette and Alvin
Halloween 2009
Thanks Craig so much for the entertainment last night.  We received lots of compliments.
Sincerely,
Audrey Byers
September 12,  2009
As a couple, one of the most important reception details was the music. DJs on a Dime provided exceptional service. Because we live in a different state, our time was very limited. We were able to schedule time with Craig and discuss options.
 
The amount of tasks for a reception can be overwhelming. We relied on Craig's expertise to help us create a fun and light-hearted atmosphere for our guests. We also hired a wedding coordinator. Craig was very proactive in communicating with our coordinator to ensure all activities aligned.
 
An hour into our reception, our guests were already complimenting the service DJs on a Dime provided for us. As a DJ, it is also very important to feel out the crowd and the dance floor. DJs on a Dime kept our dance floor full until the end.
 
Our guests had a great time, we had a great time. Thank you to Craig and DJs on a Dime for their attention to detail and excellent service.
Bobby & Ana
July 2009
Craig was great to work with and did a fantastic job at our reception. We have been getting nonstop compliments on how much fun everyone had at the wedding. He was also great at communicating with me during the reception when we were running behind/ahead of schedule. We are really happy that we chose him for our DJ and would highly recommend him to anyone without reservation. He did an amazing job!
Ryan and Stephanie Keller Long Beach, CA
July 2009
Everything was great.  They (Tom and Weston) responded very well to the mood of the party, and most of the important songs i wanted were played.  The sound was really good.
Gabriel and Kelli Ryder Santa Monica, CA
August 2008
Hi Craig just want to thank you for a wonderful job you did at our wedding on Saturday. We, along with everyone else, can't stop talking about it. Take care and we hope we have a chance to see you again at another occasion. Take care and thank you once again.
Jaime and Vanessa Alvarez Studio City, CA
August 2008
Craig, We wanted to thank you for providing such a wonderful evening for Ryan and Heidy's wedding Sunday night. We were apprehensive about using a DJ for such a small party but you pulled it off discreetly and perfectly. Thank you for your excellent work!
Jim and Darlene Holbrook, parents of the groom Westlake Village, CA
August 2008
Craig, Now that the dust has settled a bit after the wedding, I just wanted to send a huge THANK YOU for your professionalism and the great job you did at our wedding. The music was absolutely PERFECT!!! I will certainly keep an ear out for anyone looking for a DJ and give them your name, number, and/or website. Thanks again,
Ryan and Heidy Holbrook Westlake Village, CA
May 2008
Craig was wonderful! We received a lot of compliments on how fun he was as well as his great selection of music. He played every song that we had requested and then some. Thank you Craig for making our wedding so memorable!!
Christopher and Jennifer Aleria Lytle Creek, CA
March 2008
5 out of 5 Stars! Craig was awesome! He had the perfect selection of music and we were very impressed. He even taught us Grease Lightning!
Jonathan and Marilyn Kalbfeld Pasadena, CA
December 2007
When we arrived at our reception, people were already asking us who our DJ was. They wanted to hire him for their own event, and we were only an hour into the reception! Needless to say, Craig was just excellent. Everyone enjoyed themselves tremendously. I appreciated the way he respected my ideas for the types of music I wanted to have played. The changes from cocktail hour to dinner hour to dancing were so seamless. Thanks so much for all Craig's hard work. He was great!!
Mark and Patricia Weaver Long Beach, CA
September 2007
Craig is very sweet and easy to work with. Loved him.
David and Barbara Buchbinder
March 2007
Our guy (Craig) was EXCELLENT!!!! Adapted to all the changes that happened. Couldn't have been a nicer fella at all! GREAT!!!!
Mike and Bonnie Lawler
July 2006
Dear Craig, Thank you for helping me standout as the 'Rock Star' at our 2006 Grand Gala Award Ceremony at the Millennium Biltmore on July 20th. Your commitment in making this event successful was clearly defined upon initial contact. You were not only professional and considerate throughout the overall process but you went above and beyond the typical 'Musical Director' job description, by integrating 'Talent Producer & Coordinator' helping me locate and coordinate local amazing talent that made this event the talk of the town. It truly has been a pleasure working with you and I'm looking forward to having another opportunity to work with you again.
Sincerely, Amelia Viramontes Manager, National Training and Events Small Business Technology Institute
July 2006
Dear Craig, Thank you so much for making my wedding so wonderful. Peter and I had a great time, but more importantly, my family and friends had a blast. Everything was awesome. The music was great and I definitely felt like I could trust you and Tom behind the controls. Thank you again. I'd be happy to be a reference for future gigs. I hope you and Tom managed to have fun as well.
Linda Thomas Los Angeles, CA
March 2006
My wife and I recently had the pleasure of having Craig Henry DJ at our wedding. I say pleasure, because Craig was a consummate professional and provided a great time for all our guests. He brought equipment for both our wedding ceremony (outdoor) and our reception (indoor). Despite having to set-up and manage two separate sound systems, everything worked perfectly and our minister even commented that it was one of the most professional events he had ever officiated. During our reception, the dance floor was packed and many people commented to me that it was one of the most entertaining weddings they had ever attended. I would highly recommend Craig for any wedding, party, corporate event or other celebration which would require a DJ.
Sincerely, Doug Clark
July 2005
Consider this email a placeholder until I can see you and shake your hand and buy you a beverage or three, but in a nutshell you guys were perfect. Everyone we talked to loved it, everyone was dancing. Musically you hit it on the head, exactly what we so desperately wanted but could not describe. Coordinatorly, you were pros. Jamie and I could kick back and enjoy ourselves without a single worry. The night was a blur I confess, but I do distinctly remember relaxing and the feeling that we were in the hands of masters. You guys were great. And then all the little details: Craig keeping that huge smile on my nephews face. Hearing some sweet Elvis Costello in the mix, that stuff was just unbelievable and for that you really blew us away. Thanks so much.
Brian and Jaime San Diego, CA