Dress it Up!
Put the finishing touches on the look of your wedding or event
 If you're getting married soon you've probably been given a veritable plethora of choices as to the cake, invitations, appetizer and dinner menus & much more and we certainly don't want to complicate your life further, but we do want to let you know that you have options in regards to the look of your DJ presentation. We've presented a few looks so that you can make an educated decision toward fulfilling your wedding vision. 
You can go old-school simple: 
Naked
A table with a black or white table cloth and two speakers, speaker stands; all cables neatly tucked, taped or wrapped: this is included in all DJ/MC packages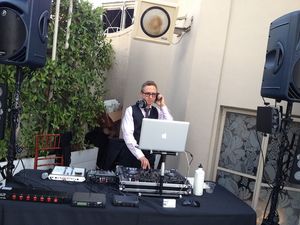 Half Naked!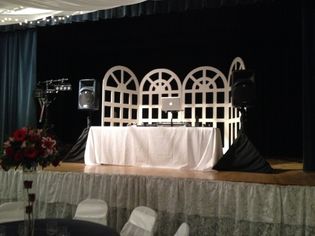 Or we can dress the speaker and lighting stands for you by wrapping them in black fabric which hides all electrical and audio cabling and provides a clean, theatrical appearance that says, "This event is a bit more special than usual."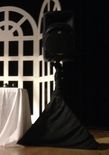 In this image to the left, the table and hinged lattice behind it were provided for us but we wrapped the speaker stands so our bride and groom could have a "photo-ready" DJ set up. When getting an auto quote from us, choose "Black fabric speaker stand wraps" as an option and add it to your quote for only $25. 
Now Dress it Up!
For events that require a more upscale approach, add either a table top or full, free-standing DJ facade & Stand Wraps or stand scrims and speaker covers Package. A facade provides a clean, upscale look while hiding the DJ table, gear and cabling. If space permits speaker stands to be behind the facade then most of the stand will be hidden but will be wrapped to extend the aesthetics to those who venture "behind the curtain".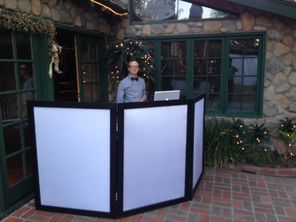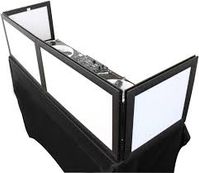 Table Top DJ Facade                                                                                                                                       Full Free-standing DJ Facade          
Tabletop Facade w/Speaker Stands Dressed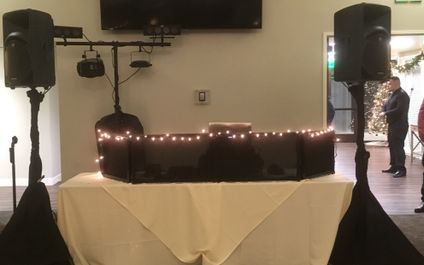 Fully Dressed and lit!
Add back lighting to the facade for a fun and exciting look that will WOW your guests and keep the dance party going until it's time to go home!  You have the option of static uplighting (below, left) or lighting that responds to the beat of the music (right) or that raises and lowers, strobes or chases with a controller and DMX cabling for dramatic effects.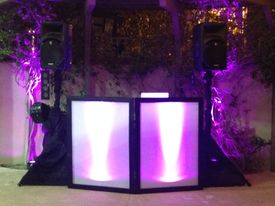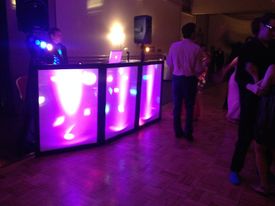 Puttin' on the Ritz!
Along with either a tabletop or free-standing DJ facade add speaker & Lighting stand scrims from Scrim King to hide cables for an added touch of class and sophistication!
See the "Before and "After photos for a comparison

Then add speaker covers to complete the look!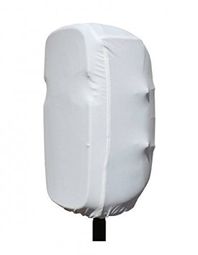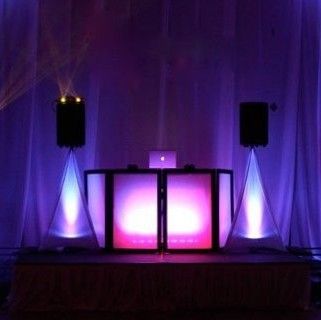 And add LED "Up Lighting" for the dramatic "Puttin' on the Ritz-Glitz"!  
Call today to discuss your special event and let us put together a custom package with options to help you save money!