ADD A DJ FACADE FOR ELEGANCE AND EXCITEMENT!
We do our best to set a nice, neat table at all our events, hiding cases an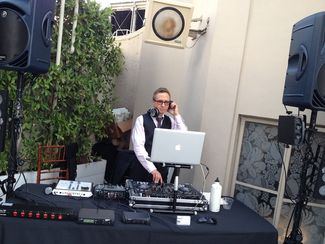 d cables wherever we can. But if you'd like a more upscale, elegant look, you might want to consider adding a DJ Facade to your quote. 
Choose from our smaller Tabletop facade with your choice of white or black panels or the Full or Partial Floor Panel Facade to clean the space up and "raise the stakes" to make a "great party" first impression on your guests. Take a look below to see which facade is right for your event:
TABLE TOP DJ FACADE
Our Tabletop DJ Facade is perfect for when you want the clean look of a facade but might not have the space for the Full Panel Facade. With a sturdy black metal frame, the facade's spandex panels can be easily switched from black to white depending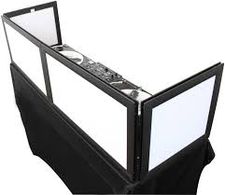 on what kind of vibe/visual impression you'd like.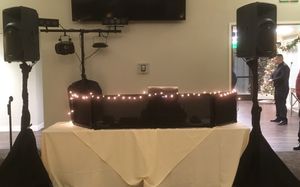 FLOOR PANEL DJ FACADE
The Floor Panel Facade is made up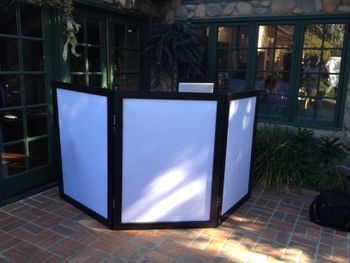 of 3'x4' panels of black wood frames and white lyrca centers, the DJ Facade hides the table, gear, speaker stands (unless set up dictates them being outside of facade) and any cases that might be behind the table to give your event and upscale look. Starting at just $75!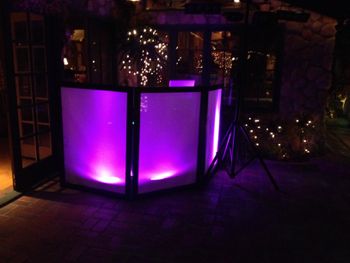 Add Up Lighting for ambiance and vibe!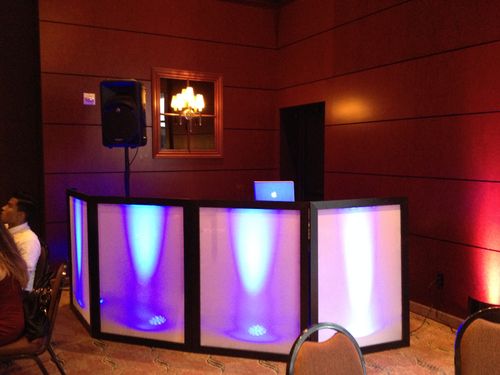 By adding Up Lighting, a Lighting Controller and DMX wireless & cabling to have the up lights slowly raise and lower, run a chase sequence with each light or have each light strobe for an added light show during dance time!
See our Online Quote feature for
DJ Facade Pricing
 See videos below of what our lights can do!