DJ & MC Services
All of our DJ/MC packages include the following as a base list of services and are then augmented depending on the type of event, number of hours needed, & gear or special services options, listed by the event type below.  
Please call us at 818-599-7175 for a free consultation, click for a free QUOTE
or message us with any questions
• An initial phone call, Skype, Face Time or face to face meeting with your DJ/MC to discuss your event so we understand what you want and don't want for the big day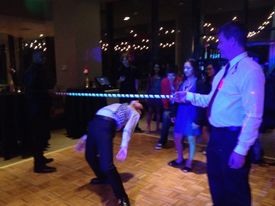 • An award winning DJ/MC for your designated number hours to play music, act as Master of Ceremonies, take song requests, lead group dances and/or games (if desired), as well as coordinate your timeline and work with any/all other vendors to ensure your special day goes smoothly! Note: we have the option of playing all clean, radio friendly versions of songs ranging from today's hits to popular music from the last 50+ years.
• A two speaker sound system including two powered speakers, stands, and cabling, a laptop with DJ software and USB DJ controller, mixer, back up music player and b/u hard drives and handheld wireless & wired (back up) microphones for announcements, thank you's, toasts, etc. 
• Two fun dance lights that respond to the beat of the music projecting colorful light beams and patterns for dance floor excitement!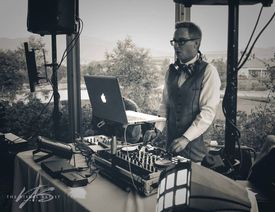 • 24/7 access to our online wedding ceremony and reception planning form, customizable timeline feature and song request system to customize your event plans.
• We can also give you a "Guest Song Request" link to give to your guests so they can submit songs request before your wedding. You can monitor and approve the list beforehand so there are no unwanted musical surprises.
• Ongoing email, phone and/or face to face consultation with your DJ to confirm event timeline and details from the moment you book with us all the way through your special day.  We're here to help!